IN AI WE TRUST OR NOT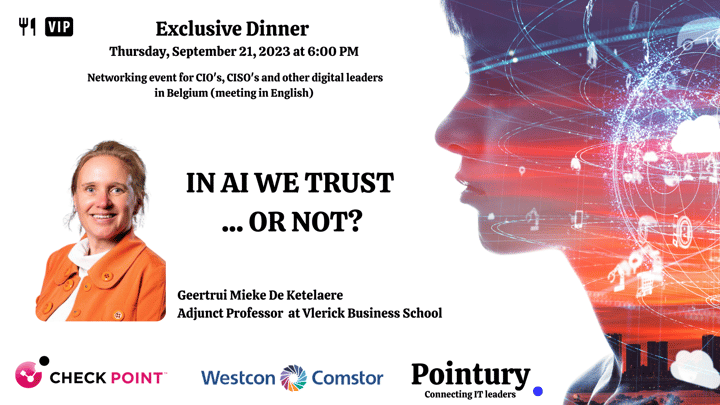 On Thursday September 21, 2023 we had another great Pointury event about AI with Geertrui Mieke De Ketelaere as guest speaker.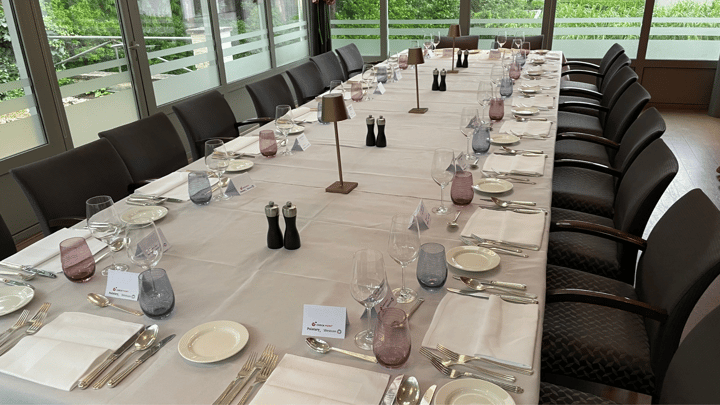 The latest Pointury round table discussion took place in in Waterloo On Thursday 21 september 2023. It was again an inspiring round table with active participation of all digital leaders around the table.

We delved into the intriguing world of artificial intelligence (AI). The guest speaker for the evening was Geertrui Mieke De Ketelaere, a prominent Belgian civil engineer and advocate for ethical, reliable, and sustainable AI. Mieke De Ketelaere is widely recognized for her efforts in simplifying the understanding of AI concepts and highlighting the essential steps needed for the ethical and responsible adoption of this transformative technology. As an adjunct professor at Vlerick Business School and former AI Director at IMEC, she brings a wealth of expertise to the field.

The discussion began by questioning the possibility of creating self-learning AI systems. Over time, AI has evolved from basic automation of tasks such as invoice and complaint handling to sophisticated systems capable of analyzing vast amounts of customer behavior data. The integration of detectors has further amplified AI capabilities. A pivotal moment was marked by OpenAI's decision to democratise access to ChatGPT, a move that revolutionised the way people perceive and utilise AI, shifting from problem-solving to identifying diverse use cases.

One compelling topic raised by Mieke De Ketelaere was the impending blurred line between AI and human intelligence. This intersection is encapsulated in the Turin test, originally called the imitation game by Alan Turing in 1950. It is a test of a machine's ability to exhibit intelligent behaviour indistinguishable from that of a human.

The conversation also highlighted a significant concern regarding the environmental impact of AI. The substantial energy and cooling water consumption associated with AI presents a critical challenge. While AI holds promise in solving various global issues, it paradoxically contributes to energy overconsumption.

Nevertheless, there are existing techniques capable of reducing the energy consumption of AI systems by a factor of ten. An intriguing question arises: why haven't tech giants like Google and OpenAI adopted these energy-efficient techniques?

As discussions continue and the landscape of AI evolves, finding a balance between technological advancement, ethical considerations, and sustainable practices remains an ongoing endeavor. With visionaries like Mieke De Ketelaere at the forefront, driving dialogue and advocating for responsible AI development, we move closer to a future where AI seamlessly integrates into our lives, with the best interests of humanity and the planet at its core.

Check Point Software Technologies Ltd. is a leading provider of cyber security solutions to governments and corporate enterprises globally. Its solutions protect customers from cyber-attacks with an industry leading catch rate of malware, ransomware and other types of attacks. Check Point offers a multilevel security architecture that defends enterprises' cloud, network and mobile device held information, plus the most comprehensive and intuitive one point of control security management system. Check Point protects over 100.000 organisations of all sizes.
Westcon-Comstor is the leading global technology provider and specialist distributor of business technology. Operating in more than 70 countries, we deliver business value and opportunity by connecting the world's leading IT vendors with a channel of technology resellers, systems integrators and service providers. We combine our industry insight, technical know-how and decades of distribution experience to deliver value and accelerate our vendors' and partners' business success.

Check out upcoming events and interesting articles on www.pointury.com.